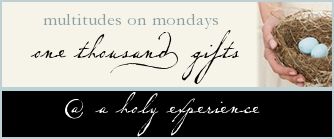 Thankfulness is a gift. It is not something you have to do or be. It makes other more appreciative as well as yourself when you are. I know I am extremely Thankful for a ton of things in my life. Some of these things I take for granted at times. Thank You Jesus For Allowing me to be Thankful!
1. Thankful for the wonderful family I have.
2. Thankful for a roof over my head and Clothes on my body.
3. Thankful that we are all healthy
4. Thankful that I am able to stay at home with my kids and educate them how God wants me to
5. Thankful that we are able to share our love with others.
6. Thankful that my Stomach is always full
7. Thankful that my husband has a job that pays our bills
8. Thankful for two vehicles.. this is one we take for granted that we need to thank God for more often.
9. Thankful for Music. It calms your heart and lifts your spirit when you need it the most.
10. Thankful for my Parish Family
11. Thankful for the Man whom allows me to be thankful... GOD
What are you thankful for?